Photo reblogged from unbearable vision with 66 notes
Divine in Pink Flamingos (John Waters, 1972)

(via minamata, bruisedbukowski)
Source: bruisedbukowski
Photo reblogged from Divine (Official) with 34 notes
Divine violated by a giant lobster yclept Lobstora (designed by Vincent Peranio) in John Waters' Multiple Manics (1970)
Watch here
(via divineofficial)
Photo reblogged from unbearable vision with 200 notes
unbearablevision, divineofficial:
The Infant of Prague and Lady Divine (Divine) from John Waters' Multiple Maniacs, 1970
Source: divineofficial
Video reblogged from unbearable vision with 13 notes
Divine and Lobstora in Multiple Maniacs (John Waters, 1970)
Photo reblogged from Gender Confusion with 387 notes
Divine by Greg Gorman, Los Angeles 1994
"I know I'll never make a sequel to Pink Flamingos because it would have to end with Divine taking a shit and the dog eating it."
— John Waters, Shock Value: A Tasteful Book About Bad Taste
(via genderconfusion, bohemea)
Photo reblogged from à l'allure garçonnière with 34 notes
[image description: a photo from the late 70s of andy warhol with divine. it looks like a paparazzi type photograph, with both people smiling and a large crowd of people around them.]

so beautiful!
Source: neotribalism
Photo reblogged from à l'allure garçonnière with 16 notes
divine

a friend of mine once told me he was saving up to get this tattooed on his leg and then it was then knew we would we good friends for a long, long time.
Oh, bless. This tattoo, however, shows so much more commitment…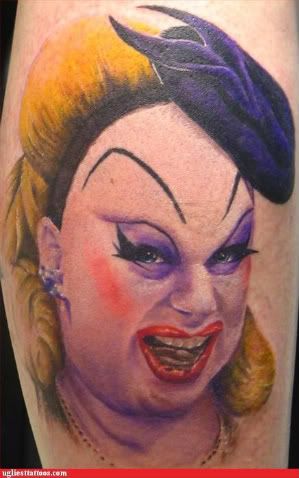 …I think it'd be nicely offset with a "Trash is my politics, trash is my life!" tramp-stamp number.
God, the kinds of shit (har) people send me as "helpful thesis material"…
Photo with 3 notes
John Waters and Glenn Milstead (aka Divine)
Photo reblogged from à l'allure garçonnière with 90 notes
boiledbones:bluebeadsandbones:brownboyman:goodthankyou:cannedmeat:

DIVINE
Source: cannedmeat
Video with 1 note
Divine - I'm So Beautiful